ALF-120W-UB | 5-INPUT 120W MIXER AMP WITH MP3 MEDIA PLAYER, FM TUNER, & BLUETOOTH / 120W @ 70/100V & 4-8-16OHMS
ALF-120W-UB
5-INPUT 120W MIXER AMP WITH MP3 MEDIA PLAYER, FM TUNER, & BLUETOOTH / 120W @ 70/100V & 4-8-16OHMS
ALF-120W-UB
5-INPUT 120W MIXER AMP WITH MP3 MEDIA PLAYER, FM TUNER, & BLUETOOTH / 120W @ 70/100V & 4-8-16OHMS
UM : EA
Estimated Weight: 10.0
Compact Mixer amplifier. It has a built-in Media player with Bluetooth, onboard FM tuner and MP3 player. Front panel mic. input with priority function, rear panel balanced mic. input with phantom power. Emergency input function. Dual RCA line inputs and RCA aux out. 120W at 70/100V and 4-16 Ohms. 24V backup power input.
FEATURES
Speaker Output of 100V or 70V & 4 -16 Ohms rated power output of 120W
USB, FM Radio & Bluetooth with remote control
2 MIC inputs, 1 EMC input, 2 Line inputs, 1 Line output
Individual Volume control for Mic 1-2, Aux 1-2, bass/treble, and master volume control
Supports both AC100-240V & 24V power Supply
Priority: EMC > MIC1>Others
LED indicators for power, clip, protect and signal
With Short-Circuit, clip, overload, and high temp protection.
Ideal for small venues such as Classrooms, retail stores, Coffee shops, restaurants, etc.
Customers Also Viewed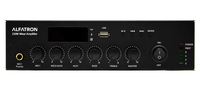 ALF-250W-UB
5-INPUT 250W MIXER AMP WITH MP3 MEDIA PLAYER, FM TUNER, & BLUETOOTH / 250W @ 70/100V & 4-8-16OHMS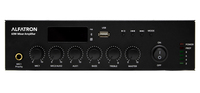 ALF-60W-UB
5-INPUT 60W MIXER AMP W/MP3 MEDIA PLAYER, ON-BOARD FM TUNER, & BLUETOOTH/ 60W @ 70/100V & 4-8-16OHMS
×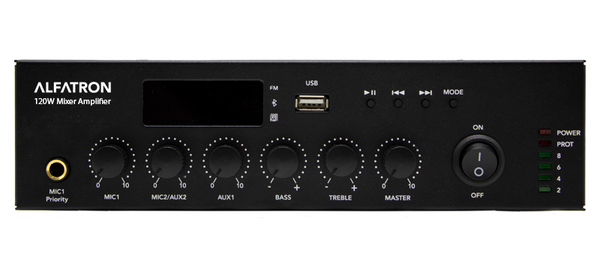 ×