FAP62T-UL2043 | 6" COAXIAL SPEAKER SYSTEM WITH 70.7/100V-32W TRANSFORMER AND 8OHM BYPASS
FAP62T-UL2043
6" COAXIAL SPEAKER SYSTEM WITH 70.7/100V-32W TRANSFORMER AND 8OHM BYPASS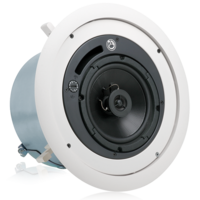 FAP62T-UL2043
6" COAXIAL SPEAKER SYSTEM WITH 70.7/100V-32W TRANSFORMER AND 8OHM BYPASS
UM : EA
Estimated Weight: 15.0
The FAP62T-UL2043 from AtlasIED meets the requirements of UL 2043 for speakers used in air handling (true plenum) spaces. Model FAP62T-UL2043 coaxial ceiling speaker package will satisfy the needs of owners, architects, contractors, and consultants by delivering true, high fidelity sound reproduction in an attractive and easy-to-install system. These High performance systems are perfectly suited for many business music and public address applications. Compact profile enclosures and wide dispersion make the FAP62T-UL2043 a perfect choice for low ceilings.
The speaker's components match the performance of the legendary AtlasIED Strategy Series II FA Series. High quality construction of the 1" voice coil drivers include polypropylene cones with a butyl rubber surround. The19mm coaxially mounted tweeter is constructed of durable PEI. The high sensitivity of the speaker means less power may be required to achieve the desired SPL. The speakers are factory assembled to an optimally tuned & ported deep drawn enclosure and include a specially designed low saturation 70.7V/100V transformer. A convenient front mounted switch allows tap selection without the need to remove the speaker from the ceiling. Uniquely designed "easy access" input panel design allows for "thru" conduit runs using flexible or rigid conduit. A detachable Phoenix style, locking four-pole connector provides for easy daisy chain wiring to other full range speakers or AtlasIED FAPSUB subwoofers. Attractive press-fit grille blends seamlessly into contemporary architecture.
Mounting is simplified with Strategy Series II style "dog leg" tabs that allow easy installation into drop tile or drywall ceilings with provided tile bridge assembly. The tile bridge consists of (2) triangular formed mounting rails and a C-ring assembly. The C-ring can be attached to the rails with the screws provided to extend support to the t-bar grid in suspended ceiling applications. Multiple hole locations are provided to allow the C-ring to be positioned all the way to the outer edge the tile if necessary. For existing dry-wall applications the tile bridge c-ring and support rails can be inserted into the hole cut for the enclosure. For easy positioning the "V" shaped support rails match the shape of the C-ring tabs for easy maneuvering and location when working "blindly" above the deck. For new construction drywall ceiling applications the optional model FAP62-TR trim ring is available. This unit provides a marked location for drywall installers to cut around essentially reserving the desired location in the ceiling until final installation of speaker. Mounting holes are provided to accommodate 16" or 24" OC stud/joist mounting.
Features
4 Pole Detachable "Phoenix" Style Connector Allows Easy Pre-Wiring and is Convenient for Daisy Chaining Additional Strategy Full Range Speakers or Subwoofers

Easy Installation in Drop Tile or Sheetrock Ceilings via C-ring/V-rail Tile Bridge and "Dog Leg" Mounting System (Included)

Enhanced Quality 70.7V/100V Internal Transformers Minimize Insertion Loss and Maintain Low Frequency Response While Providing increased Output for Higher SPL Applications

Extended Low Frequency Response from the 285 Cubic Inch Optimally Tuned and Ported Deep Drawn Galvanized Steel Enclosure

Front Mounted Tap Selector Switch for Easy System Tuning Adjustments Includes Transformer Bypass Setting for 8 ohm Direct Coupled Operation

"Press Fit" Grilles Blend Better into Contemporary Architecture

Unique "Trap Door" Input Section Allows for Through Conduit Runs with Rigid or Flex Conduit
| | |
| --- | --- |
| Speaker Type | Coaxial |
| Sensitivity | 88dB Average |
| Frequency Response | 63Hz - 20kHz |
| Dispersion | 110° |
| Diameter | 12 1/2" (31.75 cm) |
| Shipping Weight | 15.50 lbs (7.03 kgs) |
| Certified To Safety Listing | UL 1480 & UL 2043 |
×