SLX24/SM58-G4 | WIRELESS VOCAL SYSTEM WITH SLX4 RECEIVER AND SLX2/SM58 HANDHELD TRANSMITTER
SLX24/SM58-G4
WIRELESS VOCAL SYSTEM WITH SLX4 RECEIVER AND SLX2/SM58 HANDHELD TRANSMITTER
SLX24/SM58-G4
WIRELESS VOCAL SYSTEM WITH SLX4 RECEIVER AND SLX2/SM58 HANDHELD TRANSMITTER
UM : EA
Estimated Weight: 8.0
Includes SLX2/SM58, SLX4 receiver, microphone clip, rackmount kit, two 1/4 wave antennas, power supply, 2 AA batteries, protective bumpers with 8 screws, vinyl bag, and user guide.
SLX® Wireless offers quick setup and exceptional wireless clarity for working bands and professional installations.
Transmitter form factors include handheld, lavalier, headworn, bodypack, instrument clip-on, and combo
Powered with AA batteries
24 MHz tuning bandwidth
12 Compatible systems per band (20 when using multiple bands)
Sound installations and working bands need powerful wireless tools that can be set up quickly and used confidently. Shure's rugged SLX Wireless Systems exceed these demands with innovative setup features such as auto frequency scan with transmitter setup, exceptional wireless clarity, detachable receiver antennas, and legendary Shure microphones.

SLX Wireless Systems feature the Shure patented Audio Reference Companding for clear sound beyond the limits of conventional wireless technology.
Available Bands
| | | |
| --- | --- | --- |
| G4 | (470.125 – 493.825 MHz) |   |
| G5 | (494.125 – 517.750 MHz) |   |
| H19 | (542.275 – 571.750 MHz) |   |
| H5 | (518.200 – 541.800 MHz) |   |
| J3 | (572.200 – 595.800 MHz) |   |
| L4 | (638.200 – 661.800 MHz) | |
Customers Also Viewed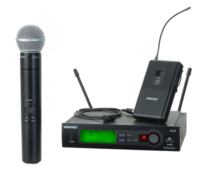 SLX124/85/SM58-G4
SLX COMBO INCLUDES SLX4 RECEIVER, SLX1 BODYPACK TRANSMITTER, WL185 CARDIOID LAV, SLX2/SM58 HANDHELD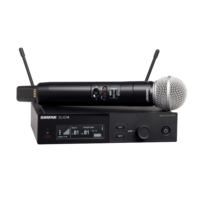 SLXD24/SM58-G58
WIRELESS VOCAL SYSTEM WITH SLXD4 RECEIVER AND SLXD2/SM58 HANDHELD TRANSMITTER WITH SM58 MICROPHONE
×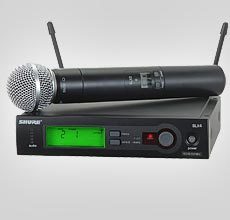 ×
×