DR6
TOUCHSCREEN REMOTE CONTROL
DR6
TOUCHSCREEN REMOTE CONTROL
Unit Price:

$249.00

UM : EA
Estimated Weight: 0.88
Description: The DR6 is a fully customizable touchscreen remote for the HAL family. It supports multiple pages or tabs and any set of levels, toggles, selectors and/or commands. Drag, drop and resize controls any way that's desired. Use custom background images and logos in full-color on the 7-inch LCD display.
Features:
·        All steel, painted white.
·        Rubber bottom protects the desktop.
·        Kensington security hole.
·        Holes in the bottom to fasten to a desktop.
·        Larger hole in bottom to thread CAT 5 cable through the desktop.
Customers Also Viewed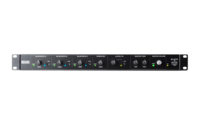 BLACK & BLUE
MONO INPUT SELECTOR / MIXER / AMP (20W @ 4OHM, 70V)-3 CHANNELS OF BLUETOOTH, 3.5MM INPUT, & USB LINK
DRZH
REMOTE LEVEL CONTROL AND 7-POSITION SELECTOR FOR ALL RANE COMMERCIAL PROCESSORS

HAL3S
MULTIPROCESSOR (1U) - 2 MIC/LINE/LINE-PLUS INPUTS, 6 ANALOG LINE OUTS, EUROBLOCK I/O
×