HR-1 A4F
HR1, SINGLE-SIDED FULL CUSHION MEDIUM WEIGHT NOISE REDUCTION HEADSET, A4F CONNECTOR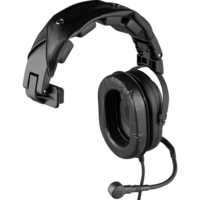 HR-1 A4F
HR1, SINGLE-SIDED FULL CUSHION MEDIUM WEIGHT NOISE REDUCTION HEADSET, A4F CONNECTOR
The HR-1 and HR-2 are medium weight, noise reduction headsets with dynamic microphones. They both have a noise reduction rating of 21dB, and are suitable for use in moderately noisy environments. All models feature a unique, soft covered headband design that distributes ear cushion pressure evenly over the entire ear with no pressure points, unlike conventional designs which apply more pressure on the bottom of the ear than on the top. An added advantage of this design is the headset folds into an extremely compact shape.
FEATURES
- Comfortable foam-filled, covered headband pad and supplate ear cushions. The headband pad evenly distributes the headset weight, with no pressure points, for maximum wearer comfort. The ear cushions combine comfort and light weight with excellent acoustic seal. 
- Adjustable ear cup pressure.
- The dynamic boom arm features a sealed ball-and-socket joint and flexible boom for precise microphone placement on any head size. The boom rotates overhead for microphone placement on either side of the head. 
- The microphone cordage is protected inside the boom arm. Shielded wire throughout the headset protects against RFI and EMI. Strain-reliefs on all cords provide maximum durability.
×