KB601
KLIK BOKS PLUS WIRELESS PRESENTATION/STREAMING BYOD SYSTEM - INCLUDES INFRARED REMOTE CONTROL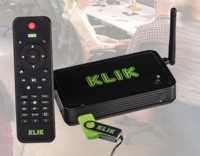 KB601
KLIK BOKS PLUS WIRELESS PRESENTATION/STREAMING BYOD SYSTEM - INCLUDES INFRARED REMOTE CONTROL
Unit Price:

$249.00

UM : EA
Estimated Weight: 2.00
Your Wireless Presentation Connector - KLIK Boks PLUS
The KLIK Boks PLUS wireless presentation connector makes it easier than ever for users to stream content from a computer or mobile device to a display, without cables. Combining a high-performance system-on-a-chip (SoC) with a multifunction hand-held remote, PLUS delivers both power and control. KLIK Boks PLUS integrates with existing network infrastructure or stand alone, adapting to your needs.
Key features include:
Stream from Win/Mac/iOS/Android without installing software

Control access to the display or the media player with a wireless remote

3 levels of access for optimal security; Open, Password and Managed access

Wired & Enhanced Wireless network connectivity plus Virtual AP mode

Comprehensive HDMI, VGA, Analog & Digital Audio connectivity

Share a presentation remote or keyboard with Wireless USB feature

 

Transform any meeting room, classroom or presentation facility with KLIK Boks PLUS!
×