MB5050HC
MICROBOOM SYSTEM: 50" CARBON FIBER BOOM, CLUTCH ASSEMBLY WITH & M1250BHC HYPERCARDIOID MIC
MB5050HC
MICROBOOM SYSTEM: 50" CARBON FIBER BOOM, CLUTCH ASSEMBLY WITH & M1250BHC HYPERCARDIOID MIC
Unit Price:

$599.00

UM : EA
Estimated Weight: 4.00
Description: The MicroBoom™ can be used with any of the microphones in The Micros™ series providing a broad selection of pick-up patterns, output levels and frequency responses. A high quality shielded cable is used internally to insure the cleanest audio signal path between the microphone and the bottom of the boom. The stand adapter offers total control over the angle, rotation and position of the carbon fiber rod by way of a flexible metal gooseneck. The MicroBoom™ provides an ultra-clean, professional and elegant appearance on stage while providing exceptional performance and portability.
Features:
·        Carbon Fiber Boom (50")
·        Microphone (MB5050HC)
·        Clutch Assembly
·        High quality 25' XLRm -mini-XLRf shielded mic cable
·        Windscreen
Customers Also Bought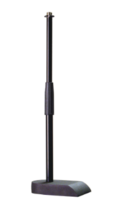 STANDMB
HEAVY DUTY PEDESTAL BASE MIC STAND FOR USE WITH THE MICROBOOMS / ADJUSTABLE HEIGH 12.8 - 21"
×