MB5050HC
MICROBOOM SYSTEM: 50" CARBON FIBER BOOM, CLUTCH ASSEMBLY WITH & M1250BHC HYPERCARDIOID MIC
MB5050HC
MICROBOOM SYSTEM: 50" CARBON FIBER BOOM, CLUTCH ASSEMBLY WITH & M1250BHC HYPERCARDIOID MIC
Unit Price:

$599.00

UM : EA
Estimated Weight: 4.00
The MicroBoom™ System is produced in three lengths: 24", 50" and 84" and comes with a carbon fiber rod compatible with any of The Micros™. Lightweight, able to attach to any microphone stand, the MicroBoom™ is a problem solver for many hard-to-reach miking applications including choir, live theater and orchestra.
FEATURES
- Clean, elegant appearance
- Choice of capsules 
- Available in Black or White finish
- No external power needed 
- Designed, assembled & tested in the USA 
- 1 year warranty
Customers Also Bought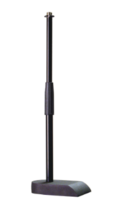 STANDMB
HEAVY DUTY PEDESTAL BASE MIC STAND FOR USE WITH THE MICROBOOMS / ADJUSTABLE HEIGH 12.8 - 21"
×